My oldest son Draven went into his bed room tonight and saw a mouse. The other boys ran into the room and they were all screaming. My middle child, who is very sensitive and wants to be a vet, tried to catch it. He chased it out from under the bed because the cat was trying to get it. I was sitting in the living room in the chair watching them when the mouse ran between my youngest little boys legs through the dining room and into the kitchen. It was huge!! I thought I was going to die when I saw it. My husband and I went into the kitchen. When I got in there, one of the boys said its a chipmonk. Well, it was not a chip monk, but it was a flying squirrel. We tried to catch him and he ran behind the fridge.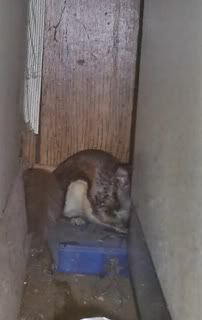 I held a bucket and my huband tried to run him out with a broom. He ran out all right, but not into the bucket. Now the kids are hoopin and hollaring. It was so exciting. He ran right past me, through my little boys legs again and started jumping all over my husband who was laying in the floor beside the fridge. He ran back into my little boys room and jumped up onto his sword that he has. I snapped a pic and my hubby tried to catch him.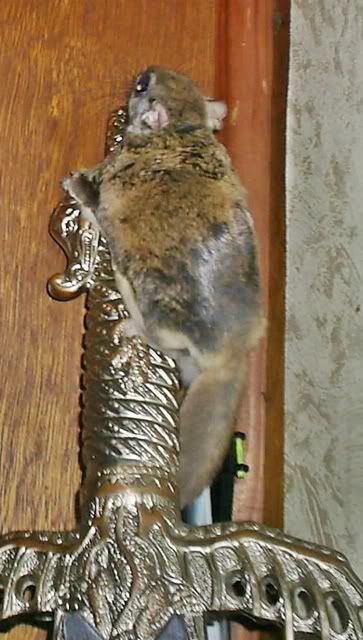 It didnt work. This time he ran into the living room. My little weenie dog had been watching the whole time.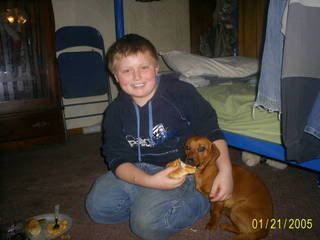 He was all nervous and scared. He thought the little guy was trying to hurt us. He grabbed it, it got away from him and ran across the room. That is when the poor guy met his untimely end. The dog must have crushed him, because he appeared unharmed.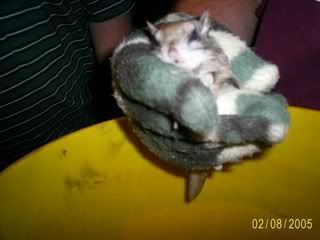 The kids were devistated. They had immediately fallen in love with it. My hubby tried to revive it, rubbing his tummy and blowing in his face. I just sat and watched it all, my heart breaking for the poor little squirrel and for my baby boys.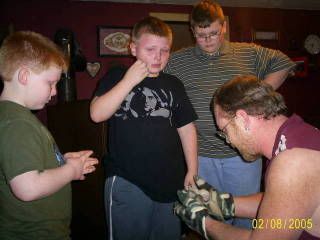 I cried. I know it is only an animal, but it was just so sad. Please listen to this I let my kids listen to it last night and it did help them understand. Funny thing is, I recieved it in an email just yesterday. Isn't God's timing simply amazing? I think I got that for this purpose.

We called my dad and he gave me the name of a taxidermy place. Now I am not one for dead animals being around, i think it is quite morbid, but, in this case I can make an exception. The man told us what we need to do to preserve it and that it would last about 6 months in the freezer, we aren't going to wait that long, but we are going to have to wait a few weeks to get it done. I am going to take it to my dads house and they will keep it there in the deep freeze because I can't bare to look at it all the time when I open mine. The kids are happy about keeping it around so to speak, but my seven year old told me we need to say a prayer for it. I explained that it was already to late for that, and that it was all ok now.